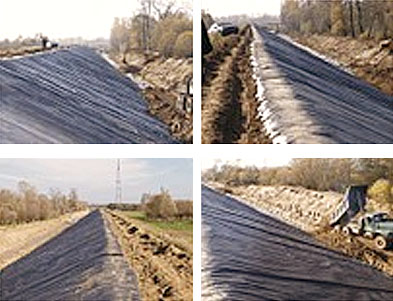 Gamrat are one of the largest plastics processors in Poland and a company which matters in Europe. Here is a brief outline of our products:
The subject of our activity is the processing of plastic materials for the construction industry needs, as well as the production of some products for the defence industry. Our greatest pride is our 70-year tradition and continuously growing investment projects, which are the aftermath of economic transformations at the turn of 1980-ties and 1990-ties.
Since the 1st Aug. 1996, we have been the Single-person State Treasury Company, which became a first step on the road to Company restructuring. The 1990-ties were the time of systematic modernizations and purchasing of new machines and technologies. Our production lines come from worldwide renown companies, thus guaranteeing the application of the state-of-the-art techniques in the processing of plastic materials.
Gamrat is the environmentally friendly Company. The waste-free technologies guarantee nearly complete reduction of contamination. We take care to make both the production process, as well as the final product, ecological.
Our greatest trump card is the world's top quality of our products. Our products meet the requirements of international standards and posses the necessary certificates. The evidence of this is the award of the ISO 9001:2000 Quality System Certificate.
Presently, our product offer comprises the following:
»   Gamrat PVC Roof Gutter Systems;
»   Gamrat PVC Soffit;
»   Gamrat PVC Siding (façade cladding of PVC strips);
»   Gamrat hoses and elastic conduits of PVC;
»   Elastic floor coverings;
»   HiGam – system of tight room finishing;
»   Gamrat Forum wall lining;
»   FolGam – hydro-insulating foils;
»   DachGam – plastic foil sheets for roof;
»   Set of swimming-pool and technical pipe systems of PVC-U;
»   Gamrat pressure pipe systems of PVC-U;
»   Gamrat sewage pipe systems of PVC-U;
»   Gamrat systems of PVC-U pressure and sewage pipes with extended bells;
»   PE pipe systems for drinking water and other media;
»   Gamrat PE pipe system for distribution of gas fuels;
Gamrat Technical Sheets
Click on more info below to view Gamrat Technical Sheets