Dolphin Falls Free Standing Stainless Steel Water Feature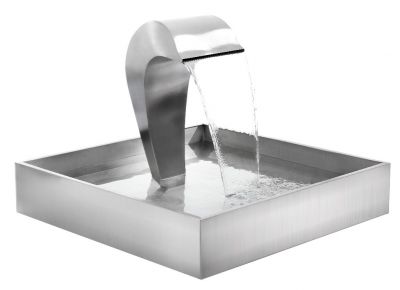 Dolphin Falls Free Standing Stainless Steel Water Feature
This elegantly beautiful cascading dolphin stands 73cm tall (29″), 35cm (14″) wide. Made from grade 304 stainless steel, this water feature is very popular with amateur gardeners and garden designers alike.
With water flowing out of the dolphins neck this feature will without doubt add a crisp, modern edge to any garden or simply provide the look of any modern-styled courtyard, deck or patio. Comes complete with hose kit and 2000LPH pump only (stainless steel reservoir is not included, 80cm x 80cm stainless steel bowl featured in main image). It is suitable for use with a reservoir or in a pond, indoor or outdoor. More information below.
Without reservoir (suitable for ponds and stainless steel bowls):
If you wish to place the feature directly in a pond then we recommend selecting this option. Nuts and bolts included with this feature – can be mounted onto concrete block etc. (not included)
Do you need a pebble pool?
With plastic reservoir (suitable for outdoor use):
You can install and secure the dolphin feature in your pond. Nuts and bolts included with this feature. Length 79cm (31″) x Width 48cm(18″) x Depth 30cm (12″)
With stainless steel reservoir (suitable for indoor use):
Our water feature will stand alone in both the stainless steel bowl.

Stainless steel bowl (square) W 80cm (31ins) D 80cm (31ins) H 20cm (8ins).